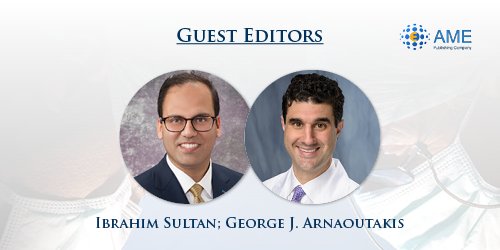 This series on "Advancement in the Surgical Treatment of Aortic Dissection" is co-edited by Dr. Ibrahim Sultan, from University of Pittsburgh, Pittsburgh, PA, USA, and Dr. George J. Arnaoutakis from University of Florida, Gainesville, Florida, USA.
Aortic dissection, a tear in the intima of the aorta in which new blood flow into a false lumen is established, was first described as such by German anatomist Daniel Sennert in the 16th century. Since the death of George II, King of England in 1760 and the autopsy performed by Frank Nicholls we have known of the grave dangers of acute aortic dissection. Centuries of hard work and innovation within the global medical community has helped to increase understanding of the predisposing factors, etiology, management and treatment of dissection, yet it continues to be a vexing problem with high morbidity and mortality. In this focused series of Journal of Visualized Surgery, experts from prominent aortic centers from around the United States will outline the surgical management of thoracic aortic dissection from the aortic root to the distal thoracic aorta. This series will provide several examples of therapeutic strategies for different sections of the thoracic aorta, all of which will address the basic principles of management stated previously.
Editorial
Review Article
Disclosure:
The series "Advancement in the Surgical Treatment of Aortic Dissection" was commissioned by the editorial office, Journal of Visualized Surgery without any sponsorship or funding. Ibrahim Sultan and George J. Arnaoutakis served as the unpaid Guest Editors for the series.