Editorial
Inflatable penile prosthesis implantation and "Mini-Jupette" sling after radical prostatectomy for erectile dysfunction, climacturia and/or mild incontinence
All the tips and tricks are described in detail and the clearly drawn illustrations should aid the implanter (Figures 1,2).
Figure 1 After dissection, the proximal corpora cavernosa and bulbar urethra should be clean. The scrotal septum is separed from the urethral attachment. The external border of the cavernotomies are suspended. The corporotomies, of a length of 3 cm minimum, are close to the insertion of the cavernous bodies on the ischio-pubic bone. The ''Mini-Jupette'' is fixed by two running sutures to the inner borders of the two cavernotomies.
Figure 2 The cylinder tubing of the inflatable prosthesis exits the corpora cavernosa distally towards the scrotum at the posterior angle of the cavernotomy at the deep insertion of the ''Mini-Jupette''.
In this video (Figure 3) we demonstrate our personal standard surgical technique of inflatable penile prosthesis implantation plus concomitant insertion of a polypropylene sling, named the "Mini-Jupette". This innovation aims to cure severe and medical resistant erectile dysfunction and neutralize mild incontinence and climacturia, in a 53-year-old patient, 2 years after radical prostatectomy.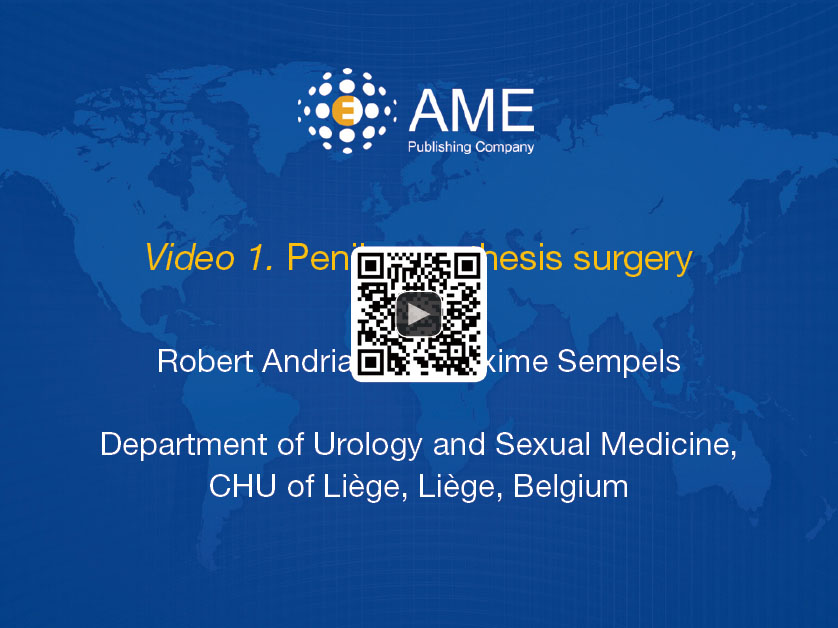 We highlight the uncommon anatomical landmarks of the penoscrotal plane of the bulbo-urethral and proximal cavernous bodies area where the graft will be inserted. All the tips and tricks are described in detail and the clearly drawn illustrations should aid the implanter. According to our personal experience and an American-European study that are referenced (2,3), the effectiveness of the procedure allows some prostate cancer survivors with functional morbidity after radical prostatectomy to regain a fulfilling sex life.
---
Acknowledgments
None.
---
Footnote
Conflicts of Interest: The authors have no conflicts of interest to declare.
Ethical Statement: The authors are accountable for all aspects of the work in ensuring that questions related to the accuracy or integrity of any part of the work are appropriately investigated and resolved. Written informed consent was obtained from the patient for publication of this manuscript and any accompanying images.
---
References
Andrianne R, Sempels M. Penile prosthesis surgery. Asvide 2020;7:066. Available online: http://www.asvide.com/watch/33118
Yafi FA, Andrianne R, Alzweri L, et al. Andrianne Mini-Jupette Graft at the Time of Inflatable Penile Prosthesis Placement for the Management of Post-Prostatectomy Climacturia and Minimal Urinary Incontinence. J Sex Med 2018;15:789-96. [Crossref] [PubMed]
doi: 10.21037/jovs.2020.01.01
Cite this article as: Andrianne R, Sempels M. Inflatable penile prosthesis implantation and "Mini-Jupette" sling after radical prostatectomy for erectile dysfunction, climacturia and/or mild incontinence. J Vis Surg 2020;6:25.