Editors-in-Chief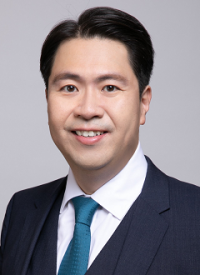 Alan D. L. Sihoe, MBBChir, FRCSEd(CTh), FCSHK, FHKAM
Gleneagles Hong Kong Hospital, Hong Kong, China
Medical Qualifications:
Bachelor of Medicine and Bachelor of Surgery – University of Cambridge, UK
Fellow, Royal College of Surgeons of Edinburgh
Fellow, College of Surgeons of Hong Kong
Fellow, Hong Kong Academy of Medicine

Other certificates received (for academic reference only):
Bachelor of Arts with Honours – University of Cambridge, UK
Master of Arts – University of Cambridge, UK
Fellow, American College of Chest Physicians (FCCP)
Fellow, American College of Surgeons (FACS)

Selected Academic Positions:
Associate Editor, European Journal of Cardio-Thoracic Surgery
Section Editor, Asian Cardio-Vascular and Thoracic Annals
International Director, Society of Thoracic Surgeons (STS)
Council Member, Asian Society for Cardio-Vascular and Thoracic Surgery (ASCVTS)
Board Member, Asia Thoracoscopic Surgery Education Platform (ATEP)
Council Member, Hong Kong Society of Minimal Access Surgery (HKSMAS)
Specialist Advisor, Hong Kong Society of Medical Oncology
Program Committee, International Society for Minimally Invasive Cardiothoracic Surgery (ISMICS)


Dr Sihoe received his medical training at the University of Cambridge, and after working in Scotland and England, he returned to practice Cardiothoracic Surgery in Hong Kong and China, specializing in minimally invasive Video-Assisted Thoracic Surgery (VATS). He was Clinical Associate Professor of the Department of Surgery at the University of Hong Kong and Chief of Thoracic Surgery at the University of Hong Kong Shenzhen Hospital before recently moving to private practice in Hong Kong. Dr Sihoe is currently Honorary Consultant in Cardiothoracic Surgery at Gleneagles Hong Kong Hospital.

Dr Sihoe is an internationally recognized advocate of 'next generation' VATS techniques – especially uniportal and needlescopic chest surgery. He has authored or co-authored published over 200 peer-reviewed journal articles, conference abstracts and book chapters in the international literature. He is an avid medical educator, and has been invited to perform surgery and lecture at surgical conferences and educational events on every continent in the world. His work in thoracic surgery and clinical research has won multiple awards – including from the European Society of Thoracic Surgeons (ESTS) and the International Society for Minimally Invasive Cardiothoracic Surgery (ISMICS). In 2018, Dr Sihoe was the recipient of the prestigious Medical Sciences Technical Award (2nd Class) from the Chinese Medical Association. Dr Sihoe has previously served in leadership roles in multiple Cardio-Thoracic Surgery societies in Europe and Asia, and he continues to actively to promote clinical and academic practices in the specialty through teaching around the world.

Dr Sihoe's indexed academic and research output can be found at:
https://www.ncbi.nlm.nih.gov/pubmed/?term=sihoe+a+%5Bau%5D
---
Yupei Zhao, MD (General Surgery)
Academician of Chinese Academy of Sciences, President of Peking Union Medical College Hospital, Beijing, China
Prof. Yupei Zhao is an academician of Chinese Academy of Sciences, professor of surgery and doctorial supervisor. Enjoying the Special Allowance of State Council, domestically, Prof. Zhao is currently serving as the President of Peking Union Medical College Hospital, vice President of Chinese Medical Association (CMA), chairman of the Surgery Sector at CMA, team leader of the National Group of Pancreatic Surgery, Chairman of the Committee of General Surgery of Beijing Medical Association and that of Beijing Medical Doctor Association. Internationally, not only being granted the honorary academician of the International College of Surgeons, American College of Surgeons, Royal College of Surgeons of England and the College Surgeons of Hong Kong, he is also the vice president of the International Hepato-Pancreato-Biliary and gastrointestinal Association and president of the 16th Asian Surgery Association. Prof. Zhao also takes an active role in the academic field by being the Chief Editor of Chinese Journal of Surgery, Editor-in-Chief of Annals of Surgery (Chinese Version), and Honorary and Associate Editor of a dozen surgical journals.
Prof. Zhao has been working in many innovative projects in the general surgery field (e.g. hepatobiliary surgery, gastrointestinal surgery, thyroid surgery and so on) with his excellent expertise in pancreatic surgery.
Prof. Zhao had received numerous awards for his exceptional contribution, including the second prize of College Science and Technology Award and National Progress Award in Science and Technology, the first prize of Chinese Medical Science and Technology Award, the Science and Technology Awards of the Ho Leung Ho Lee Foundation, the first Zhou Guangzhao Clinical Surgeon, Young and Middle-aged Expert with Special Contribution by the Ministry of Health, Chinese Medical Doctor Award, Model of Medical Ethics of Beijing, Ethics Advanced Individual of Beijing and National Labor Medal, to name a few. The Pancreatology, edited by Prof. Zhao was elected into the "Three One-Hundred" Original Book Publishing Program, a national honor in the Chinese publishing industries, launched by General Administration of Press and Publication.