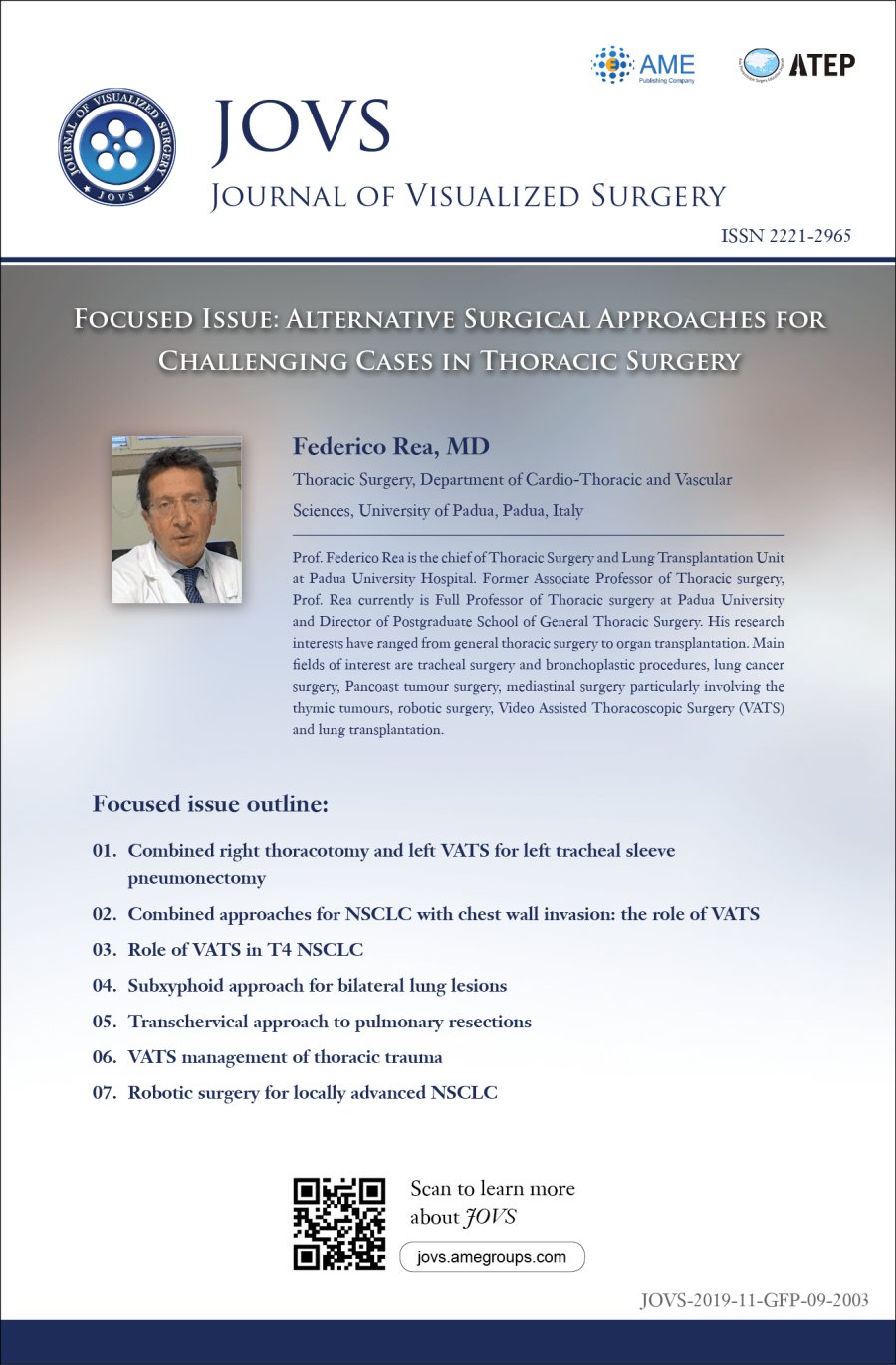 This focused issue on Alternative Surgical Approaches for Challenging Cases in Thoracic Surgery is edited by Prof. Federico Rea, MD, from Thoracic Surgery Unit, Department of Cardio-Thoracic and Vascular Sciences, University of Padua, Padua, Italy.

Prof. Federico Rea is the chief of Thoracic Surgery and Lung Transplantation Unit at Padua University Hospital. Former Associate Professor of Thoracic surgery, Prof. Rea currently is Full Professor of Thoracic surgery at Padua University and Director of Postgraduate School of General Thoracic Surgery. His research interests have ranged from general thoracic surgery to organ transplantation. Main fields of interest are tracheal surgery and bronchoplastic procedures, lung cancer surgery, Pancoast tumour surgery, mediastinal surgery particularly involving the thymic tumours, robotic surgery, Video Assisted Thoracoscopic Surgery (VATS) and lung transplantation.

Focused issue outline:
1. Combined right thoracotomy and left VATS for left tracheal sleeve pneumonectomy
2. Combined approaches for NSCLC with chest wall invasion: the role of VATS
3. Role of VATS in T4 NSCLC
4. Subxyphoid approach for bilateral lung lesions
5. Transchervical approach to pulmonary resections
6. VATS management of thoracic trauma
7. Robotic surgery for locally advanced NSCLC

Disclosure:
The series "Alternative Surgical Approaches for Challenging Cases in Thoracic Surgery" was commissioned by the editorial office, Journal of Visualized Surgery without any sponsorship or funding. Federico Rea is serving as the unpaid Guest Editor for the series.