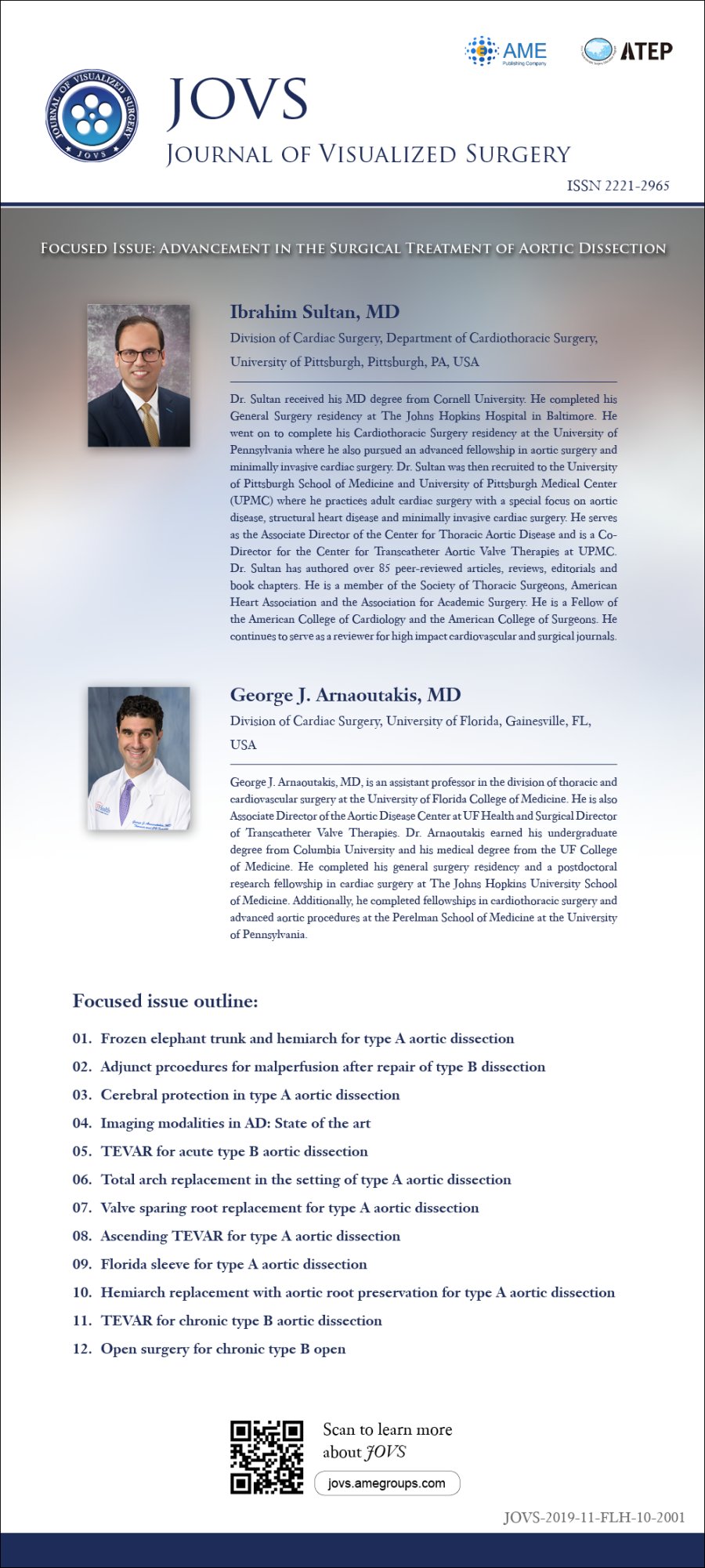 This focused issue on Advancement in the Surgical Treatment of Aortic Dissection is edited by Dr. Ibrahim Sultan, MD, from Division of Cardiac Surgery, Department of Cardiothoracic Surgery, University of Pittsburgh, Pittsburgh, PA, USA; and Dr. George J. Arnaoutakis, MD, from Division of Cardiac Surgery, University of Florida, Gainesville, FL, USA.
Dr. Sultan received his MD degree from Cornell University. He completed his General Surgery residency at The Johns Hopkins Hospital in Baltimore. He went on to complete his Cardiothoracic Surgery residency at the University of Pennsylvania where he also pursued an advanced fellowship in aortic surgery and minimally invasive cardiac surgery. Dr. Sultan was then recruited to the University of Pittsburgh School of Medicine and University of Pittsburgh Medical Center (UPMC) where he practices adult cardiac surgery with a special focus on aortic disease, structural heart disease and minimally invasive cardiac surgery. He serves as the Associate Director of the Center for Thoracic Aortic Disease and is a Co-Director for the Center for Transcatheter Aortic Valve Therapies at UPMC. Dr. Sultan has authored over 85 peer-reviewed articles, reviews, editorials and book chapters. He is a member of the Society of Thoracic Surgeons, American Heart Association and the Association for Academic Surgery. He is a Fellow of the American College of Cardiology and the American College of Surgeons. He continues to serve as a reviewer for high impact cardiovascular and surgical journals.
George J. Arnaoutakis, MD, is an assistant professor in the division of thoracic and cardiovascular surgery at the University of Florida College of Medicine. He is also Associate Director of the Aortic Disease Center at UF Health and Surgical Director of Transcatheter Valve Therapies. Dr. Arnaoutakis earned his undergraduate degree from Columbia University and his medical degree from the UF College of Medicine. He completed his general surgery residency and a postdoctoral research fellowship in cardiac surgery at The Johns Hopkins University School of Medicine. Additionally, he completed fellowships in cardiothoracic surgery and advanced aortic procedures at the Perelman School of Medicine at the University of Pennsylvania.
Focused issue outline:
Frozen elephant trunk and hemiarch for type A aortic dissection
Adjunct prcoedures for malperfusion after repair of type B dissection
Cerebral protection in type A aortic dissection
Imaging modalities in AD: State of the art
TEVAR for acute type B aortic dissection
Total arch replacement in the setting of type A aortic dissection
Valve sparing root replacement for type A aortic dissection
Ascending TEVAR for type A aortic dissection
Florida sleeve for type A aortic dissection
Hemiarch replacement with aortic root preservation for type A aortic dissection
TEVAR for chronic type B aortic dissection
Open surgery for chronic type B open