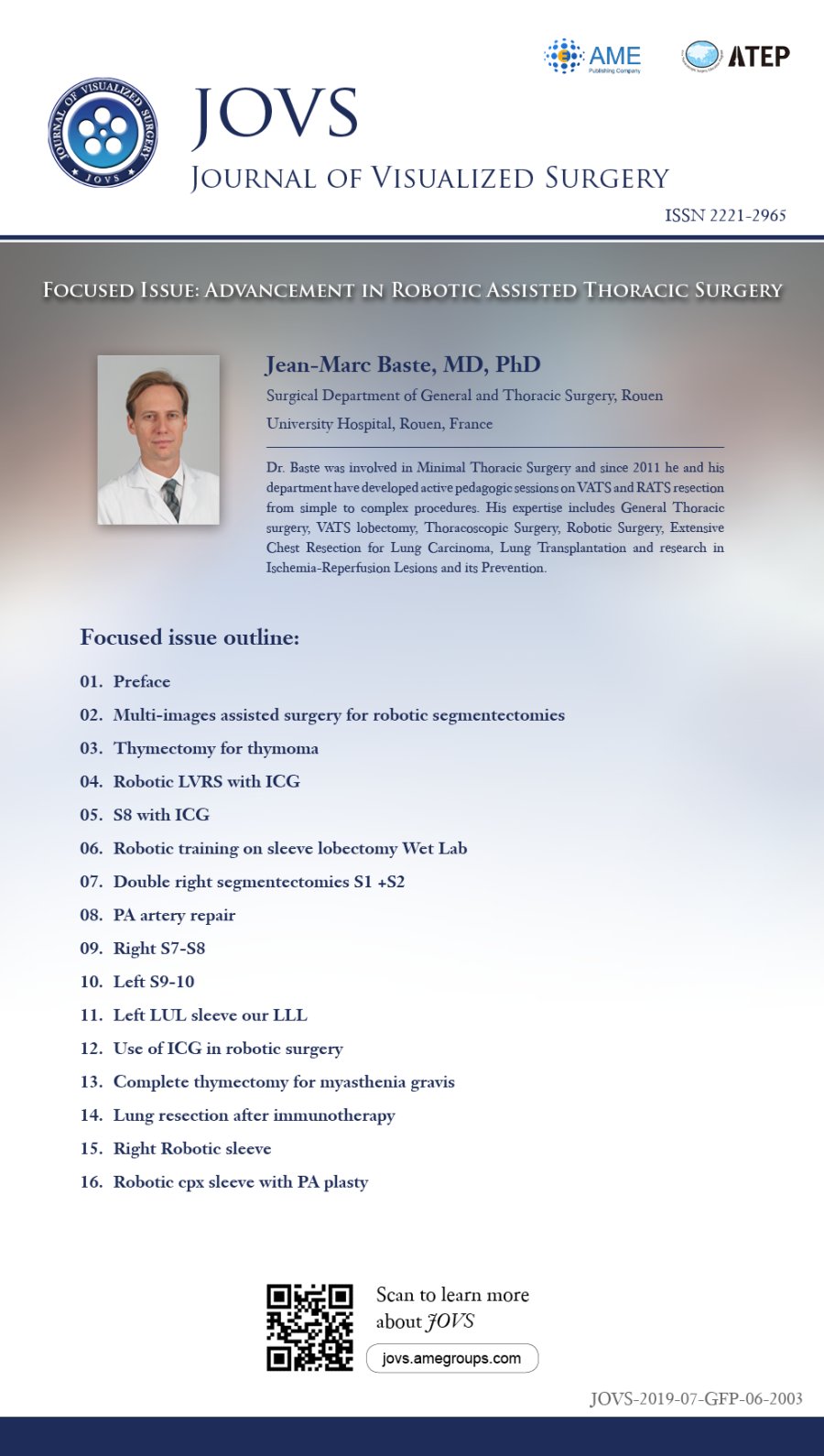 This focused issue on "Advancement in Robotic Assisted Thoracic Surgery" is edited by Dr. Jean-Marc Baste, from Surgical Department of General and Thoracic Surgery, Rouen University Hospital, Rouen, France.
Dr. Baste was involved in Minimal Thoracic Surgery and since 2011 he and his department have developed active pedagogic sessions on VATS and RATS resection from simple to complex procedures. His expertise includes General Thoracic surgery, VATS lobectomy, Thoracoscopic Surgery, Robotic Surgery, Extensive Chest Resection for Lung Carcinoma, Lung Transplantation and research in Ischemia-Reperfusion Lesions and its Prevention.
Focused issue outline:
Preface
Multi-images assisted surgery for robotic segmentectomies
Thymectomy for thymoma
Robotic LVRS with ICG
S8 with ICG
Robotic training on sleeve lobectomy Wet Lab
Double right segmentectomies S1 +S2
PA artery repair
Right S7-S8
Left S9-10
Left LUL sleeve our LLL
Use of ICG in robotic surgery
Complete thymectomy for myasthenia gravis
Lung resection after immunotherapy
Right Robotic sleeve
Robotic cpx sleeve with PA plasty
Disclosure:
The series "Advancement in Robotic Assisted Thoracic Surgery" was commissioned by the editorial office, Journal of Visualized Surgery without any sponsorship or funding. Jean-Marc Baste is serving as the unpaid Guest Editor for the series.